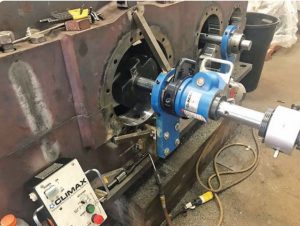 Ship owners called Superior-based Northern Engineering for help back when those calls required asking an operator to connect the lines. More than a century later, they're still calling, and NECO is still answering as the port's go-to machine shop for vessel maintenance. Often those requests necessitate a house call of sorts, as it's easier for NECO machinists to visit the ship than for the ship or its massive internals to visit NECO. A portable boring machine is sometimes along for the ride. We asked NECO lead foreman Mike Ossanna about this mobile powerhouse and the work it does.
North Star Port: What does the portable boring machine do? Where is it used? Mike Ossanna: It repairs damaged shafts or bores. It can be used to fix equipment on the boats, or at loading facilities, or other industrial sites in the area. We even used it at Mont du Lac Resort this fall, repairing the bore on the chairlift drive pulley for the ski hill. Hence the portable part of it, you can go pretty much anywhere out in the field—marine or other—and repair large machines or pieces of equipment that would be difficult to remove and bring to a shop for machining. The process saves money and reduces downtime.
Port: How is it powered? Ossanna: An electric motor drives a hydraulic pump, then a hydraulic motor drives the boring bar. If welding is required, a higher amount of electricity is needed, but the boring bar itself does not need much electricity. The source of electricity can be a small generator or local power.
Port: What are the most common situations that call for the portable boring machine? Ossanna: Say a bore is destroyed or a bearing is spun, you would have to build that bore or shaft back up by welding it and then you'd machine it back to spec. Or sometimes you'll have a new application, as we did recently with the Madeline Island Ferry La Pointe, where the stern tubes were small. Once everything was all welded up, we used the laser to shoot the center line, and then we went in with the portable boring bar to open up the tubes to the right size for the new bearings. Done precisely, there's no vibration and the customer is happy.
The beauty of the portable machine is that it's always ready. Somebody will call and say, we need you to ride the ore boat or go up to the mine, or wherever we're going, and we can move quickly because everything is ready to go. A lot of our tooling is that way, because time is crucial.
Port: Tell us about one of the ore boat assignments. How do your machinists get home when the job is completed while underway on the Great Lakes?
Ossanna: Many times, we've sailed to the Soo and farther with it. If the job is done by the time the boat gets to the Soo Locks, then our people will get off there and we'll pick them up in a truck and drive them back, but it's usually a round trip for the tooling because it's heavy. Usually at the Soo, they only like to take people on and off, not big metal boxes
Port: What was the tightest assignment you can remember for this tool? Ossanna: Probably the Tim S. Dool rudder project. That involved tighter tolerances and a lot of boring. The Dool had some serious rudder issues. It was structurally compromised. Once they got everything welded back up, we had to re-center the rudder stock, and that's a big bore—a big rudder. We did that in drydock at Fraser Shipyards. It took all winter. They tore everything apart, then fixed it, then we went in and re-machined it and put it all back together.
Port: How would this work get done in earlier generations, before you had this tool? Ossanna: We had some older stuff that could do the job, but it was a lot slower. Maybe air drive in the past, versus hydraulic or electric. But going back even farther, to when the company was founded in 1916, back then, ships didn't have unloading systems—it was all done by clam—so you didn't have the pulleys, and they had wood bearings back then, which were all bored in the shop and then put in the boat. That was a whole different generation of tooling and technique. This current portable technology has been around for quite a while, evolving all the time. It's a valuable tool for certain applications. Most people don't want to take their power plant apart, so a portable machine is important. We've had it for about 10 years. We just keep upgrading with longer bars and better drives; we kept getting more and more of the work, so we kept investing in upgrades.
Port: Lastly, where was this machinery made? Ossanna: It's made by Climax, which is based in Oregon. And we have the
rotational welder to go with it, which is basically a robot that welds the bar first, then we machine it after.